Developing a WordPress website is not enough but achieving more traffic and more revenue according to your expectation should be the prime objective. In your WordPress application development, your WordPress developer has implemented all necessary latest features, use of premium theme and customization to engage with your target audience and all the necessary plugins for smooth operation.
You get all excited with your, as you are finally fleshing out the long-held dream to run your online business. You are all ready to open your shop.
In simple terms, your WordPress website is completed and you are ready to rock the party. But you get aero customers.
Even after doing hours of hard work you're not getting customers as you except earlier. After some research and analysis, you came to know that the main problem is customers are not able to find your website. Nobody knows about your website and you're offered service. In other words, you can say there is a lack of visibility of your website.
So, what will be the solution for that and what can you do to get your website visibility?
There are so many questions that come to mind if you will deep drive into this. But there is one solution for all your questions and that is "Marketing".
Marketing the one medicine for all your pains. A well marketing plan and strategy can help you to grow your online business and get visibility on your target audiences.
Normally it's very difficult to find your website and business in the comparative market where thousands of website and business are going live daily. In this situation marketing has great role for your services or product.
To get effective results you need to promote your website. Marketing your website is always the best result to create an audience for your brand and product.
With marketing you are conveying your message to a large group of people. But you need to follow an effective marketing strategy.
Before discussing more about marketing let me tell you some basic things which helps your marketing to reach the goal, like choosing a web development technology, user-friendly and engaging web layout and design and SEO friendliness of website.
If we will talk about technology then, I will recommend "WordPress" for all of you. WordPress is the best CMS platform with custom plugins and best for marketing of any type of websites.
Why WordPress Is Best For Marketing?
WordPress is basically search engine friendly and that helps your website to gets more traffic.
A WordPress site gets an average of 23 billion page views each month. The number grows each passing day.
There are 75 billion websites that run on WordPress.
You can set your entire marketing strategy with the WordPress dashboard using the plugin and integration when needed.
And the best thing is you don't have to become an expert in coding.
Let's come to the main topic,
How To Market Your WordPress Website?
Any marketer can develop posts, manage calendars, increase search traffic, and post the content directly into WordPress.
So, here are a few marketing tips you can follow to market your WordPress website.
1. Develop Mobile Responsive WordPress Theme:
Now a days all the marketing activities results are completely depends upon the bid daddy Google. Google keeping eye on every websites activities and resulting those websites which has good content, layout and user centric information. Here website contents also play a great role in marketing.
Google loves mobile-friendly websites. So you need to make your WordPress site optimized with your mobile.
Go for the themes that are marked as mobile-friendly. Most of them are optimized to some level but not all of them are completely optimized.
2. Develop Quality Content And Never Forget To Market Your Content:
Good content is important for achieving success on your website. By content, it refers to both visual and textual form. If the website is a blog or magazine, then it's obvious that the main focus will be on text.
If you have a portfolio site, then visual content should be put on the maximum level.
Quality content refers to:
Long form
Informative
Shareable
Engaging
Relevant to your niche and to the topic content
Well written
Competent
It is important to keep your content unique and fresh. This will create more traffic to your website.
It is also important to have a captivating image with a catchy headline along with a caption that describes the post and attracts more traffic to your website.
When you offer your audience something valuable to read or view creates trust and a strong relationship with your audience.
How To Get The Most From Content Marketing?
Filling up 100 papers or flooding your page with videos and images doesn't add any value. Content marketing needs to be properly put up and approached as any other marketing collateral strategy.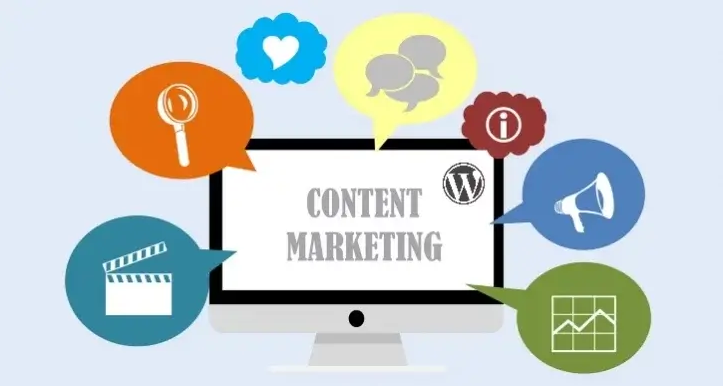 Develop a Content Calendar: A content calendar helps you to be on track by publishing daily with content pushed back to any particular goal or theme.
To remain on a particular schedule, develop and follow the content calendar. Maximize the content marketing efforts by scheduling posts to share on social media.
Make Different Types Of Content: Don't just stick to a particular form of content rather focus on various types of content. Always develop fresh blogs and follow the trend.
3. Develop An XML Sitemap:
Website crawling and indexing is important factor to come in the search results of major search engines. So before coming to search result your website must be crawl and index by search engine like Google. XML sitemap helps the web pages to crawl by search engines.
WordPress automatically develops the sitemap for you, but those are not optimized. One can easily and quickly optimize the sitemap with a plugin like Google XML Sitemap Generator. It is a handy tool that not only helps you to maintain your track on the index pages but it also tells Google about your update.
Whenever you post any new blog or create any changes, it notifies Google to re-crawl your website. This helps to improve the ranking of your site in the search results.
4. Customized Permalinks:
Your content can be optimized by ensuring the URLs of the blog post have relevant keywords. With WordPress you can create more permalink, but before you push it live make sure it is rich in keywords and readable.
You need to optimize these permalink that reflects the content easily to your visitors.
5. SEO
The first page of Google has become a refined and crucial part, in comparison to the second and other pages. From the second page and beyond it is considered as the dark web for some. Hence a strong SEO presence is important in the present day.
Also, you can go for the paid search campaign, but put more focus on the organic SEO.
According to a report by Business2community.com 70%-80% users don't follow paid advertising.
How To Gain More From SEO?
When someone hears about the term" SEO", it leads them to think about the experts and the obscurities. But the only secret to success is time and consistency. It states you can do it on your own by following some best practices.
Good SEO helps to generate leads. You need to put the information in the marketing database. So you can later push the content.
Include image: Whenever you add an image to your content, it helps in visitor engagement and that tend to increases the search engine ranking.
Repurpose Content: Rather than developing new content every time, you can create some changes to the old content. Make the most from your old one, all you need to do is update and republish the last blogs. This increases visitor traffic.
Email Marketing: For any business, email marketing is an effective way to stay connected with prospects. You also need to address their contact and behavioural information.
To capture this information, you have to gain attention in new ways so you can get more people to website.
Rich snippets are an effective way to increase search traffic. But many times they are ignored by marketers as they require some coding to create.
Conclusion:
Marketing is a creative job and you can do a lot with your WordPress website if you prepare the right marketing strategy and use the right marketing tools. With the WordPress dashboard you can handle any kind of task that is essential for marketing with the help of plugins within a very less time like SEO, image optimization, Social Media sharing, and many more.
More and more businesses are moving towards digitized mode of business, and you are still following the old method of business. Noting gone away now. This is the right time to start new things. Let Andolasoft help you in your WordPress website development and online promotion of your business.
Andolasoft is one of the trusted web and mobile appdevelopment companyhas long expertise in all technology like WordPress and digital promotion of product and services. We have helped many businesses on theirtech development and business growth. Our case studies will tell more about this.
Contact us have a free consultation about your business ideas or issues and hire our dedicated developers and marketing experts to take your business to next level.